The Robbinsville Fieldhouse is your Destination for Corporate & Consumer Events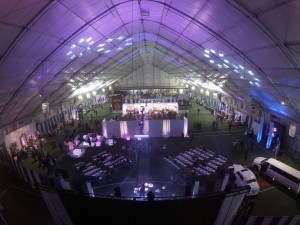 Draw on the excitement of the Fieldhouse to host your Consumer event or Trade Show. With more than 60,000 square feet of single level continuous exhibit space, the field handles 300 10 x 10 booths. Robbinsville Fieldhouse is ideal for events small and large. Take advantage of our new hotel for overnight accommodations right in the same parking lot.
Whether for a corporate luncheon, picnic or awards ceremony, a team-building flag football game or kicking field goals, there is nothing like hosting an event on the turf at Robbinsville Fieldhouse!
Click here for our Preferred Professionals Package. Inside our document, you'll find information on exhibit spaces, corporate functions, events, parties, booking schedules, pricing and more. Our team also provides you with event services through our preferred partners who are experts at the Fieldhouse and ensure that your event is a memorable experience for employees or guests.
Floor Plans (PDFs)
Robbinsville Fieldhouse Classroom Style – maximum of 2,300 persons w stage
Classroom Style- 100 10×10 Booths, Seating for 2,760 Persons
Robbinsville Fieldhouse Crescent Rounds 1,850 persons
Exhibit Set Up- Booths Only
Robbinsville Fieldhouse Rounds, 2,400 persons w stage
Robbinsville Fieldhouse Rounds, 2,400 persons
Facility Rental
For all general rental inquiries, pricing and availability, please contact us at 609-259-8787 or email to info@robbinsvillefieldhouse.com
A Fieldhouse representative will be happy to take your call or respond to your email inquiry promptly.