Never a Rain Date at Robbinsville Fieldhouse!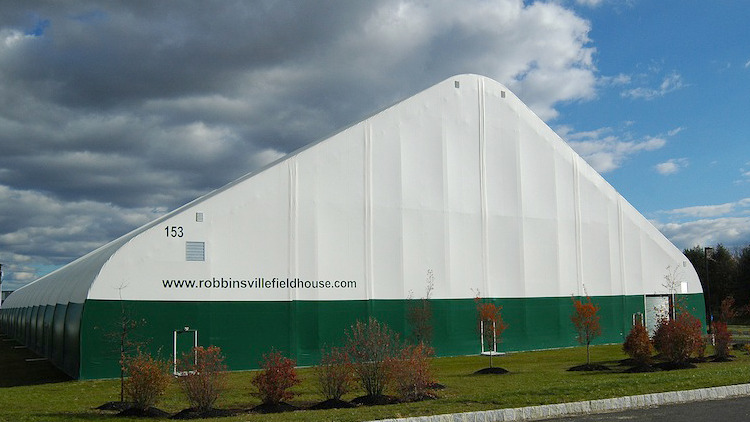 Our Indoor Athletic Field at Robbinsville Fieldhouse in Robbinsville, NJ features over 60,000 square feet of playing space for team excitement and family fun! Our facility is heated and air conditioned, so athletes and their fans are comfortable in any season.
Enjoy our 3 full sized athletic fields featuring the same turf used in NFL stadiums. Fans can comfortably cheer for their athletes in the glass enclosed Spectator Alley.
Need the ideal place to host a tournament?
Let Robbinsville Fieldhouse be your venue. Built with the year round athlete in mind and home to the prestigious Bob Smith Soccer Academy, the Sport Complex offers unparalleled options for your sporting events. The field is available for sports leagues, team training, summer camps and tournaments.
No one hosts tournaments weekends better that the Robbinsville Fieldhouse. Our expert planners can assist with all of your event travel needs, hotel room blocks, Six Flags Great Adventure packages, catered events, and special activities. Robbinsville Fieldhouse Tournament weekends are designed to give every athlete the best possible competition and memorable experiences.
Robbinsville Fieldhouse is proud to partner with award winning athletic leagues. See below for more information.
League Information
We work with a few approved and award-winning leagues throughout the year:
Soccer
Bob Smith Soccer Academy
Contact:  Bob Smith
Phone: 609-468-7208
Email: bobsmithsoccer@msn.com
http://www.bobsmithsoccer.com/
Lacrosse
True North Lacrosse
Contact: Todd Merton
Phone:  843-302-1143
Email: toddmerton@gmail.com
http://www.tnlacrosse.com/
Baseball
All Star Baseball Academy
Contact: Steve Vannote
Phone: 484-319-6634
Email: steve@allstarbaseballacademy.com
http://www.allstarbaseballacademy.com